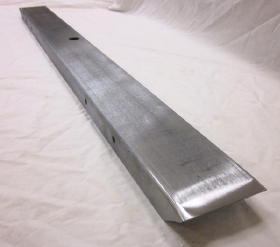 Early CJ2A Front Bumper
This is our new high quality plain bumper with the correct angled ends for the early model CJ2A. Unlike some of the other junk bumpers that are available this is a beautiful reproduction. This is the same bumper that was used on the WWII Willys MB which was also used on the Early Model CJ2A. This bumper is only used on Jeeps that use Bumper Gussets like those pictured to the right.
Early CJ2A Front Bumper - Price $55.00 -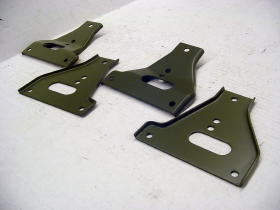 Early CJ2A Bumper Gusset Set
Now Available A new higher quality bumper gusset set at a new lower price for the early Style CJ2A Bumper.
BUMPER GUSSET SET - Early CJ2A - $60.00 per set of four
.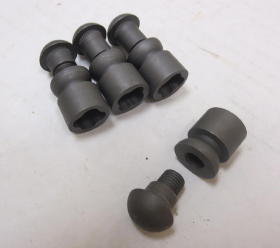 *NEW* EARLY CJ2A HI-TECH PARKERIZED RIVETS
- FOR FRONT BUMPER GUSSETS -
These are sets of 4 Imitation Rivets for the Front Bumper Gussets on the Early CJ2A Jeep. Each Set is enough for one side of the Jeep. You will need 2 Sets for one vehicle.
These are only used on the Early CJ2A Jeeps that are fitted with bumper gussets.
When threaded together to a certain torque the piece that the ratchet inserts into will snap off leaving a nice and secure rivet which is actually a bolt. No heating or hammering necessary.
These Rivets are all Parkerized. Corrosion resistance at it's finest.
- Price - $16.00 - Per set of 4 Rivets -
.
.
.
Don't see what you are looking for?
.
.
.
Try checking our CJ2A-CJ3A Frame & Brackets Parts Listing below.
.
.
.
If something does not have a button to click for ordering then give us a call or send us an email.
.
.
.
Part #

Part Description (Clutch)

Price

WO-A-01150

Member, cross center

P.O.R. U.

WO-A-1117

Bumper, front – CJ2A

$55.00 R.

Bumper, front – CJ3A

$85.00 R.

WO-A-1126

Gusset, bumper, upper left, New High Quality

$20.00 R.

WO-A-1127

Gusset, bumper, upper right, New High Quality

$20.00 R.

WO-A-1128

Gusset, bumper, lower left, New High Quality

$20.00 R.

WO-A-1129

Gusset, bumper, lower right, New High Quality

$20.00 R.

Bumper gusset set 4pc

$60.00 R.

GUS-RIVET-1
Rivet, bumper gusset (frame)
$1.50 R.
GUS-RIVET-2
Rivet set, hi-tech imitation (for one side)
$16.00 R.

WO-925395

Bumper, axle, front and rear

(mounted on frame)

$8.00 R.

END