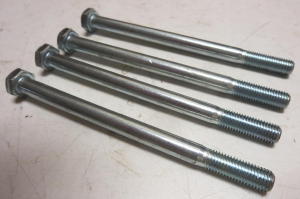 Bumper Bolt Set - CJ2A (Early Only)
These are sets of four unmarked Bumper Bolts for the early CJ2A. This is the early bumpers that use the gussets like those pictured above.
- Price - $20.00 -
.
.
.
.
.
.
.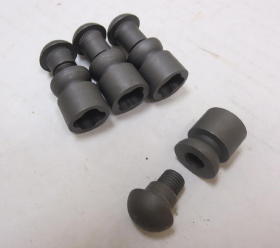 *NEW* EARLY CJ2A HI-TECH PARKERIZED RIVETS
- FOR FRONT BUMPER GUSSETS -
These are sets of 4 Imitation Rivets for the Front Bumper Gussets on the Early CJ2A Jeep. Each Set is enough for one side of the Jeep. You will need 2 Sets for one vehicle.
These are only used on the Early CJ2A Jeeps that are fitted with bumper gussets.
When threaded together to a certain torque the piece that the ratchet inserts into will snap off leaving a nice and secure rivet which is actually a bolt. No heating or hammering necessary.
These Rivets are all Parkerized. Corrosion resistance at it's finest.
- Price - $16.00 - Per set of 4 Rivets -